What Is an Alternative to Metal Roof?
Roofs do not have to be identical. There are so many options on the market that you may want to reconsider what you have proposed and look into a different roofing material. You might be surprised at how many lesser-known options outlast asphalt shingles. Some can even lower your electricity bill.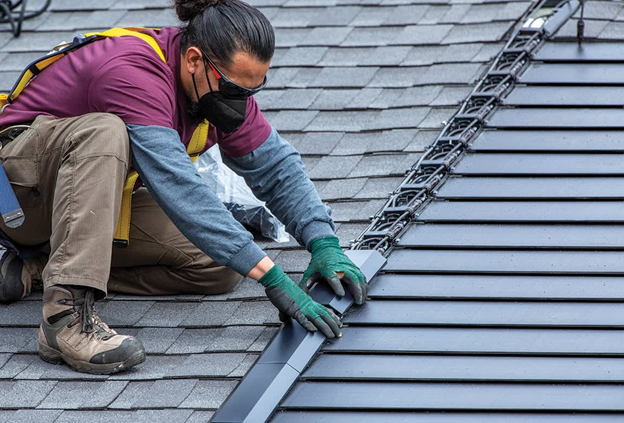 Stone-Coated Metal
Stone-coated metal roofing or stone-coated stainless steel roofing has a rich architectural profile that can replicate the appearance of asphalt shingles or clay tiles. This premium roofing material is highly resistant to hail, wind, and fire and comes with warranties of up to 50 years. It is made from corrosion-resistant metal and coated with crushed granite.
Solar Shingles
Solar shingles can be used as roofing material and an alternative to traditional rooftop solar panels. Although early solar shingles, like other solar roofing products, used flexible thin-film solar technology, modern solar shingles are typically made from rigid materials such as tempered glass. They look and perform like traditional shingles. Most can be installed in the same way as shingles without any special crews.
The greatest benefit of solar-powered shingles is their ability to generate electricity during daylight hours.
Single-Ply Roofing
Single-ply roofing is popular for commercial buildings. It can be used on any type of roof. Thermoset and thermoplastic are the two main types for single-ply roofing. Thermoset membranes have layers of synthetic rubber polymers like EPDM, CSPE and Neoprene. Because of their large size, they are often used to cover large areas of roof.
Hot-air welding is used to create cohesive laps from thermoplastic single-ply membranes. The thermoplastic material forms a permanent bond when it cools. For strength and stability, thermoplastic membranes often include a reinforcement layer of fiberglass or polyester.
This post was written by Ted Williams! Ted is the owner of A Old Time Roofing, one of the best roofing companies in Saint Petersburg, FL! Ted is a Master Elite Weather Stopper GAF Roofing Contractor, a double award winner of Best Steep-Slope Contractor from GAF and achiever of Master Elite Consumer Protection Excellence from GAF. He has been serving the Pinellas County area since 1978. Old Time Roofing has a tradition of quality workmanship, servicing residential and commercial properties.